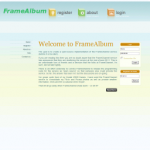 FrameAlbum is open for pre-registration!
Frankly, I'm not real keen on the name but speed was more important than polish for this round so there you have it.
After you register for the FrameAlbum beta you'll be among the first to know when the site is open with it's initial feature set.
As with most betas, you'll need to have a modicum of technical prowess to utilize the service as well as a heaping portion of patience.  The initial iteration will offer Flickr feeds to custom RSS capable frames (and news readers).
So, if you're as sad to see FrameChannel shutdown as I was, and not willing to allow your gee-whiz digital picture frame to devolve into a rather expensive paper weight head on over to FrameAlbum.com and register for the beta!