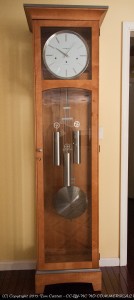 Shortly after we bought our house we did what many new homeowners do — we went to a home show!  As we wandered among the booths showing off bathtub enclosures, paving stones and replacement windows I spotted a display of grandfather clocks.
I have fond  childhood memories of an ornate mantle clock in my grandparent's home.  Many a night I fell asleep to the slow, rhythmic sounds of the mechanism.  I've always wanted a clock like that but was put off by the dark, staid, overly ornate, and frankly boring design of most grandfather clocks.  This booth was full of those but one in particular caught my eye.
It is made of light maple and the hardware is bright polished nickel.  It is a very contemporary design.  I knew immediately that I must have it.  It was very pricey, especially for a couple that had just bought a home, but we were offered a 'deal' on the show floor model.  Done!   It has been standing in our main hallway ever since.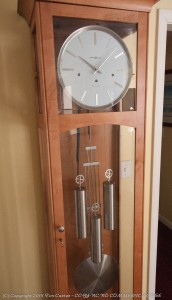 I had thought about adding a small light to the inside of the cabinet to highlight the beautiful mechanism within.  However I was not able to come up with something that was small enough to be hidden within the cabinet yet able to throw enough light to achieve the effect I wanted.  That is, until I discovered LED light strips.
I've used these wondrous things a few places around the house; as under cabinet lights to replace aging halogen 'pucks' and in our laundry room (and by 'room' I mean 'closet').  They are very bright, unobtrusive and very power efficient.
I wired up a few short pieces as a test and it was perfect!  I could easily hide the short strips behind the cabinetry and there was plenty of light.  But how to control the lights?  I didn't want just a dumb switch sticking out of the case, nor did I want the lights on all the time.  This is a job for a microcontroller!
It's been a long time since I've held a soldering iron but I've wanted to participate in the 'maker movement' and build a few 'internet of things' (IoT) projects.  This is a perfect opportunity to jump in and you, dear reader, get to follow along.
My next post will discuss my design choices and the first prototype. (spoiler: It worked – but in reverse)